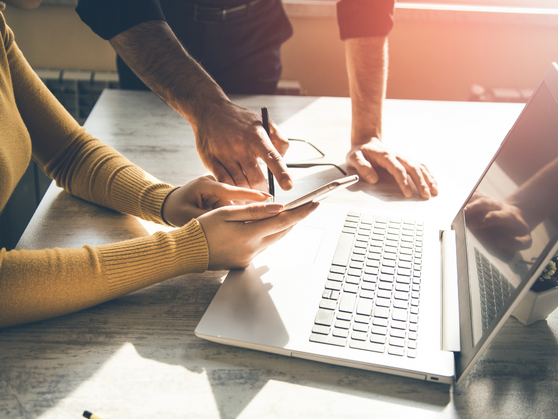 Hi, we are
Strengthen your digital transformation with a dedicated, transparent and reliable partner. Thaleria puts efficiency and work ethics at the front and center of all its services.
Our history
Kick-off: Thaleria
January 2019
With years of previous experience in the IT market, the team established Thaleria as their vision of the ideal IT Services company: putting technical staff at the center of an innovative model with strong processes and control mechanisms. Thaleria launched its activities in January 2019, and grew to 28 people by end of year with clients such as the European Commission, AXA and Engie.
Thaleria France
December 2019
Thaleria established a partnership with Unisys Belgium at the end of 2019 to tackle two major Framework Contracts at the eu-LISA agency in Strasbourg as subcontractors in the U² Plus Consortium: EXTRA and TEF Lot 1. Both offers were successful, and Thaleria France was officially incorporated in December 2019 to support the growth of our activities in France. 
Thaleria Portugal
April 2021
Thaleria kept reinforcing its core teams and growing in spite of the pandemic, reaching 66 people by end of 2020, and a Bid Management department was created to expand services into Quoted Time & Means and Fixed-Price models. Driven by the need to shift activities into near-shoring, Thaleria Portugal was established in April of 2021 as Thaleria's Delivery Center in Lisbon.
First 100
December 2021
Overcoming the turmoil of the pandemic, and supported by our near-shoring capacity, Thaleria reached a major milestone by end of 2021: 102 staff members providing technology services for a wide array of European Institutions and private sector partners. Managing scale allowed Thaleria to custom-develop our own management platforms, thereby digitizing and modernizing our field.
TM2 & Luxembourg
June 2022
Thaleria achieved in 2022 another major milestone as part of the Eurora Supernova Consortium: the award of DIGIT-TM2 from the DG DIGIT of the European Commission, the largest IT Framework Contract of the European Institutions, representing €2.7 billion and up to 4500 FTEs. To further support this and other new contracts won, a new Thaleria branch was created in Luxembourg.
Leadership and Standards
April 2023
2023 saw Thaleria trusted by its partners as leader of the Expand Consortium, leading for the first time commercial offers of €255 million to the European Investment Bank in Q1 2023. To further enhance its evolution, Thaleria also implemented the ISO Standards 9001 and 27001, respectively for managing Quality and Information Security.